Multi-Site, Flexible, Scalable – Great for use across multi-site locations with high availability, this solution delivers a scalable fax solution to every end user. Unify all your faxing communications together with NET SatisFAXtion Enterprise Edition and have total control over your document management. Enterprise Edition is easy to integrate into any VoIP environment and will improve your efficiency with all of your high-volume faxing needs.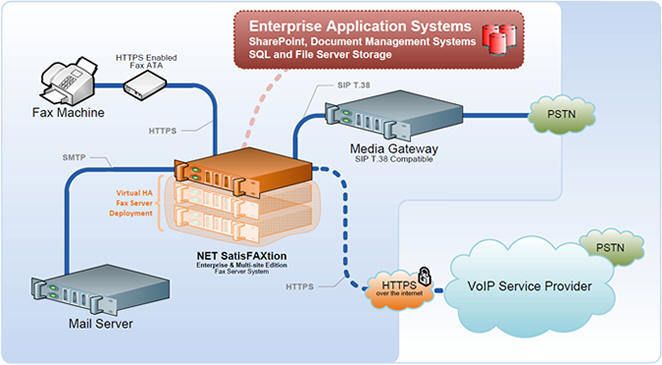 Key business documents, such as invoices or purchase orders can be faxed automatically from enterprise applications, allowing organizations significant savings on printing and postage costs. Valuable IT staff time and budgets are optimized by eliminating the maintenance and servicing of unneeded fax machines. MFP and VoIP initiatives can be leveraged with the simple integration of fax server and Fax over IP capabilities, which streamline workflow by automating fax delivery, storage, archiving and reporting.
The NET SatisFAXtion enterprise fax server solution manages high-volume faxing, includes licensing for two lines of fax traffic and expands to a maximum of 96 lines per server and unlimited user licenses. Optional fax server modules can be added for enhanced email fax integration, application integration, fax archival and fax to PDF conversions.
Robust and Scalable
Use NET SatisFAXtion Enterprise fax server software to deliver high volumes of fax traffic across multiple locations and variable user requirements. Implementing email fax capability with enterprise applications and existing infrastructure is simple and direct.
Consolidate Devices and Add Fax Capability to MFP Devices
Realize significant cost savings by eliminating expenses associated with maintaining unneeded fax machines, paper, toner and maintenance costs. Integrate with MFP devices such as Xerox, HP or Canon. By centralizing faxing with FaxBack's fax server software, users can transmit faxes from the same device they use to print, scan and copy.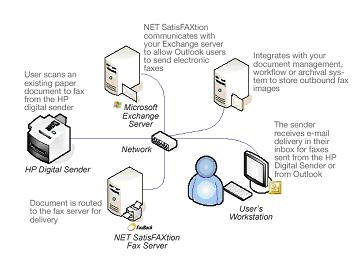 Fax from Any Application
Print to fax from within common applications such as Microsoft Office, CRM or Document Management systems.
Automate Inbound Fax Routing
Capture inbound faxes and route them electronically to individual recipients, departments or printers using a variety of options.
Protect Confidentiality and Increase Security
Electronic faxing simplifies privacy and security compliance, including HIPAA and Sarbanes-Oxley regulations. Built-in tracking features monitor when and to whom faxes were delivered.
Easy to Use Reporting Tools
Run reports to check fax, user or department volume, error, sent and received faxes, billable faxes and much more with the Report Wizard.
Quick and Easy Installation and Setup
Earmarked by many as the easiest fax server software to get up and faxing, FaxBack has a long history of developing fax technology that installs effortlessly.
Powerful Administration Software with Notification Engine Alerts
Easily set up and manage users groups with centralized administration tools and reports that also send instant real-time alerts and notifications to network administrators.
Easily Back-up and Restore
Built-in back-up and restore features provide an added layer of security and data loss prevention.